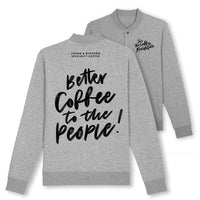 How much do you like coffee? Do all really know about it?
Here you have the most beautiful coffee-merch sweater on the internet. It started that all employees at J & N got one in autumn present, and then all customers wanted to have, and all friends with. So therefore we took more and here you will find it! Lawly warm, type all and made in a soft sweatshirt fabric of 85% recycled cotton and 15% recycled polyester. Welcome to joina our coffee vacation!
Catrine is 169 cm long, is a right normal size girl according to her self, and wears a size S.